Lesley Kili the Malaita Provincial Police Commander denies sexual harassment allegations
WHEN Lesley Kili was appointed as Malaita's new Provincial Police Commander (PPC) in January this year, there was hope and optimism by subordinate staff and members of the public.
PPC Kili told a news conference on 12th January that his contract had been signed and was effective from 7th January 2022.
 "I'm happy to come back and be a police commander and serve my people as a man from Malaita. My posting is already effective and my aim is to interact with the people and communities in the province," according to an account published by the Island Sun newspaper on 13th January this year..
"I'm not a kind of person who will sit-down in the office all the time, but a person who will get out to the people where they are and work with them," the man from the Baegu region of Malaita told journalists at the time.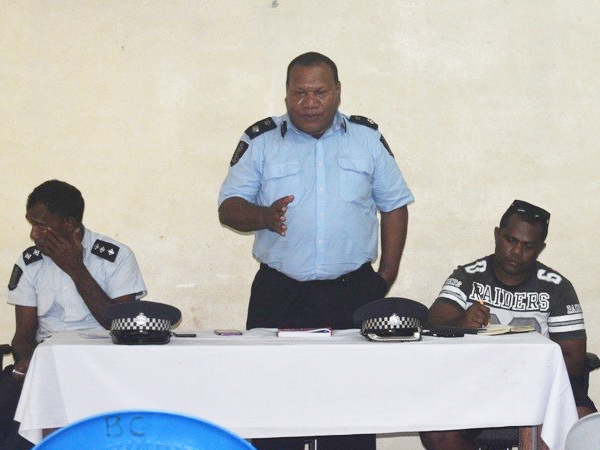 "As a leader, this is what I have to do for my people and I'm looking forward for cooperation from the people and communities in the province," Kili said.
He also announced then that Chris Laegalia, from Fiu in West Kwara'ae is the new provincial Operations Manager, according to the Island Sun account.
Kili said he and Laegalia are both Malaitans and they will be here to lead and support policing work in partnership with the people for the good of the province.
Two days ago PPC Kili denied serious sexual harassment allegations made against him not by members of the public that he swore to serve but by female staff he took the oath to lead.
Kili's allegiance of service and respect for his staff, particularly the female officers, was short-lived.
"I see him (Leslie Kili) as a father so every time he chats with me I try to turn the conversation about work-related matters but he always turns out boring and continue(s) to turn our conversation to sexual intercourse," one female officer wrote to Police Commissioner Mostyn Mangau in a sworn statement.
"I remembered on one occasion that we both chat(ted) and he message(d) me crazy dirty jokes. At the time I was at the station when I (showed) all our conversation (to another female police officer). She told me I was not the only one who received sexual comments from our boss but she was also victimised.
Solomon Star broke the story last week after a month-and-a-half investigation following a tip off by a member of the public.
"The PPC took photographs of his private parts and sent the photo to female staff under his command, the whistleblower told the author.
Solomon Star did not publish the report immediately in view of the position of the Provincial Police Commander.
As the author dug a little more into the tip-off, written evidence began to emerge.
Given how tight police looked after each other, Lady Luck had truly smiled on us.
Solomon Star now has in its possession four written documents – a report signed by six female staff – the victims of sexual harassment by their boss, three signed statements by female staff detailing the sexual harassment allegations and a letter of formal complaint by the husband of one of the female officers, a sergeant.
The documents were addressed to Police Commissioner Mangau, who through the police media last week confirmed the complaints against the Malaita Provincial Police Commander.
It said the PSII – an internal police Investigation unit – was investigating the matter.
The Royal Solomon Islands Police Force (RSIPF) has taken the complaints very seriously that it reportedly sent Deputy Police Commander Matanga to investigate.
Police Media said the investigation was put on hold due to the West Kwaio bye elections on 22nd of this month.
PCC Kili vehemently denied the allegations in a denial published by Island Sun newspaper on Monday this week.
But in a report to Police Commissioner Mangau, six female officers said female officers – both married and single – are psychologically affected by their boss's sexual harassment behaviour.
The six female staff signed the letter dated 25th August this year and addressed to the Police Commissioner.
"Many female officers had made account of the Police Commander in-boxing them (via mobile) or chat and display his erected private part and also asked the female officers to expose their private part for him to see.
"This has been going on for some time now and even directly having conversation with female officers and asking them to go out with him or sleep with him. This is a repeatedly occasion (occurrence), the letter said.
"Currently, many young female officers in Auki police station including married officers complained and (are) psychologically affected by this sexual harassment. This has extended to female officers at (the) Correctional Services.
"To avoid escalation of the issue, should it reaches the public, All RSIPF female officers call on your high esteem office to seriously look into this matter and immediate removal of the current PPC supervising," the letter, said.
One other female officer wrote in a sworn statement, "I well remember between June and July that PPC Sir Kili Lesley start(ed) in-boxing me with an unrespectful words and also, he in-boxed me his private part and said, hao size yeah bae hem no nice long iu."
"I don't reply him because I can't believe that PPC Sir Kili in-boxed me that stupid thing. Sir, you report here at Auki police station and you are our PPC so you should respect us and stop that stupid in-box of yours," the signed statement by the second female officer, said.
The third female staff said in her sworn statement that he first accepted Lesley Kili's fb friendship request around July this year.
"I responded by accepting his request with a good clear mind that he is our Provincial Police Commander, man with status, authority, integrity and dignity.
"… we became friends and he started to send me chats/messages such as, Hi, good morning good night from time to time and I respectfully replied to his chats and messages.
"As time goes on, he started to ask me if I could go out to meet him or if he can pick me and take me some place to have sex with him and I reply his messages by laughing and asking him "bae iu kam pickm me lo wat?
"He then responded by saying, "bae me kam pickm you lo truck blong PPC or how me kam lo any Taxi?" the 34-year-old female officer said in her sworn statement.
"My four years as staff officer working with four previous Provincial Police Commanders, I have never ever in my life experienced issues of such with them, our work environment was full of respect, integrity, honour and loyalty with high integral Royal Solomon Islands Police Force standards, values and discipline," she said.
By Alfred Sasako