CHINA Medical Team (CMT) in Solomon Islands practiced another free clinic for third time in Gizo, Western Province from November 29th to December 1st, 2022.
The free clinic was scheduled in Gizo hospital with generous assistance from the hospital management.
Temporary clinic was arranged in 1 medical room and 1st floor corridor.
Dr. Linda MU (General Practitioner), Dr. Carry XU (Nephrologist) and Dr. Jack LEI (Traditional Chinese Medicine) provided medical consultation and treatment for patients.
Groundwork was supported by 3 CMT members, 1 nurse of National Referral Hospital, 3 nurses of Gizo hospital in terms of registration, medication dispensing, and record review. By the end of the day, it was estimated to receive 102 local citizens.
On Nov 29th, lecture by Dr. Linda specific for medical staff—Pre-diabetes was delivered in conference room of the hospital. It aimed at improving awareness and understanding of local medical staff on such medical condition.
The presentation stressed prevention and health management in everyday life. Hence, it would ultimately benefit the local people.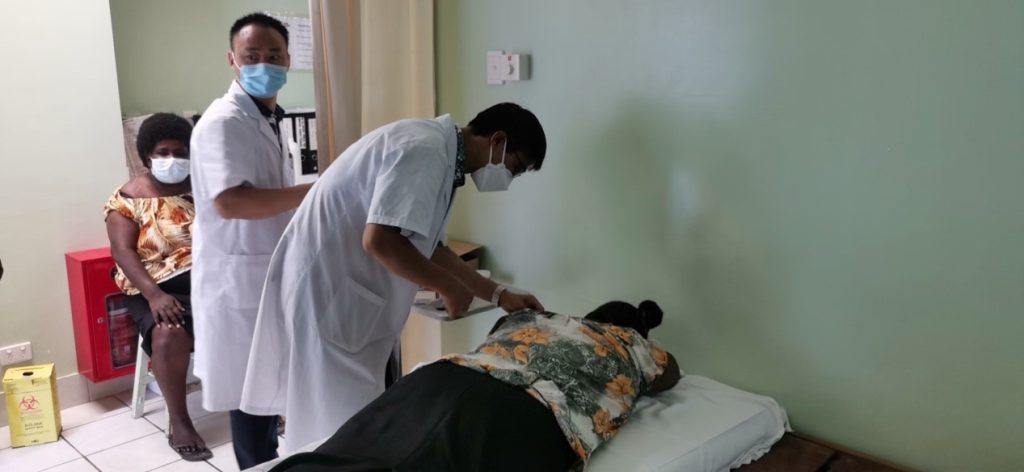 Dr. Dickson hoped that such medical capacity building would continue.
With steady enhancement of cooperation and friendship between Solomon Islands and China, CMT was expected to improve medical condition in Gizo and happiness of local people.
Considering geographical features of Solomon Islands and limited medical resources, residents outside Honiara were faced with long distance travelling, soaring transfer expense and time-consuming consultation process when seeking medical care.
Such free clinic by CMT in Gizo spared the pains of travelling and waiting for local residents. Over the continuous 6hr of medical care, doctors were attentive for detailed physical check and consultations.
With free medication and Acupuncture treatment, each and every medical care seeker was satisfied with the service.
Frank ZHOU, team leader of CMT expressed that free clinic in different province of Solomon Islands was an honorable mission for CMT.
Dr. Dickson, head of Medical Service in Western Province agreed that free clinic by CMT catered for 'the demands of high-quality medical care hindered by long distance'. Such free clinic saved time, money and urgent need of local residents.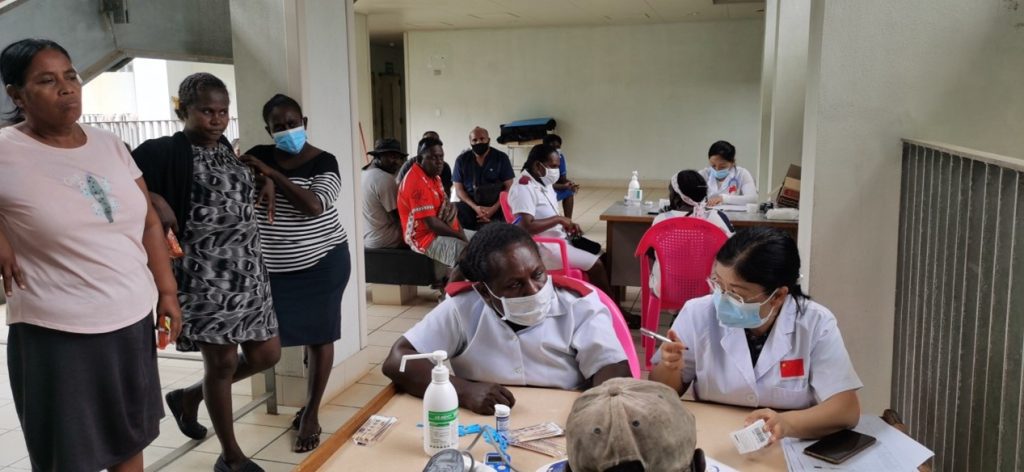 Since the arrival of CMT in Solomon Islands, Acupuncture of Traditional Chinese Medicine gained outstanding reputation in National Referral Hospital.
This free clinic, patients swarmed to Dr. Jack's table for treatment. While treating patients with acupuncture, Dr. Jack tutored doctor of Gizo hospital on how to practice simple cupping and Moxibustion therapy. Of all the 31 patients received Acupuncture, every patient spoke highly of the Traditional Chinese Medicine.
Mr. Frida suffered from frozen shoulder since 2019. Her condition was greatly alleviated after receiving acupuncture. She said "Just one treatment! I could raise my hand over my head or read my back! I must encourage my family to try this amazing Acupuncture!"