GIZO: HIS dream was to be a medical doctor to treat those who are physically sick. But God has a different plan for him and today he is nurturing the spiritually sick as a theologian and preacher.
Meet Pastor Jason Gulea from Buri village, Ranoggah, Western Province.
At the age of 31, he became one of the young ordained pastors of the Adventist Church and is now working as full time missionary in gospel ministry.
Growing up as a young village boy, his aim was to be a medical doctor.
And throughout his education journey, this ambition never slips away.
But things changed when he was doing his form studies at Betikama Adventist College (BAC) in Honiara.
Here is a story of someone who God has led over the years to be a missionary for Him.
I recently caught up with him and shared his story.
He commenced his primary education at Buri Adventist Primary School from 1998 to 2003 completing his grade 1 to 6.
He was fortunate to continue his secondary education at Kukudu Adventist College (KAC) doing forms 1 to 5 from 2004 to 2008.
Being one of the top performing students he was able to get a space to do his forms 6 & 7 at Betikama. That's from 2009-2010.
And through God's leading he was able to continue with his tertiary studies in Fiji.
And he graduated with a Bachelor in Theology from Fulton University College.
Soon after his return to Solomon Islands he started serving as a young missionary for the past eight (8) long years from 2015 till now.
From 2015 to 2016 he served as a youth Pastor (intern) at Mbokona Adventist Church, Honiara. From 2017-2018 he served as the Chaplain for Honiara Adventist Tertiary and Secondary Students Association (Honiara, ATSSA).
From 2019 to 2022 he was assigned as the Chaplain/Church Pastor Kopiu Adventist Secondary School in East Guadalcanal.
He got married and together they have two girls. His wife is a secondary school teacher.
He recalled in our interview that during his younger days, he never thought about taking up theology one day.
"My aim as a student is to be a medical doctor," he said.
However, something motivated to take up theology.
"Growing up as a very shy and quiet young person, I could hardly imagine myself standing in front of everybody to speak.
"That all changed when I was in form 4 at Betikama. Our Bible Teacher -Pr. George Vann gave us an assignment.
"We are to prepare and preach a sermon. Thats when I realised my God given potential and I started preaching during morning and evening worships for students.
"And even asked to preach during Tuesday and Friday prayer meetings. These experiences have really motivated me.
"That even though after Form 7 when I was still aiming and in the process of applying to do medicine at UPNG, God opened another door for me, and that I did not hesitate but respond positively to it. Thats how I ended up doing theology," he said.
Today Pr Gulea is one of the church young powerful preachers.
November last year he was amongst seven other ministers who were ordained as full time pastors of the Adventist Church.
The ordination ceremony was officiated by Trans Pacific Union (TPU) President Pr Maveni Kaufononga and was held in Honiara.
His family, relatives and friends also witnessed the occasion and they have congratulated him for his achievement.
Many described his achievement as a 'higher calling' to fulfill God's mission on earth.
He recalled that his road to success would not have been achieved without the support from his families, relatives, mentors, congregation and the church administration.
"My family were very supportive. They supported me almost in everyway. More specifically the daily silent prayers of my grand-mother/father on my behalf has been the secret to my success in serving God.
"My congregations were more like family to me as well. I would like to acknowledge my Mbokona Church family. Very supportive and they nurtured my early years in ministry.
"And I want to thank them. I praise God for giving me very supportive family and very supportive congregations. Thank you for all the many prayers and support," he said.
Being a missionary does not come easy because there are challenges which he also count them as blessings because of God's leading.
"There are lots of challenges I faced while serving as a minister but I'd rather count them as blessing to my ministry because God has helped me overcome them and through those challenges I was able to grow as a young minister.
"A personal one that I believe I should mention, and I have always prayed about, is concerning my family.
"Both me and my wife are both serving as missionaries, my wife is a secondary school teacher. So many times work commitment has taken much of the time we should spend with our children/family.
"Also leading a congregation of many individuals is no easy task especially as a young minister," he said.
Inspite of these challenges there are many achievements or blessing he had gained from his work.
"If I recount all the wonderful blessings we will need more space to write. I just want to say that the greatest blessing and joy in serving as a minister is experiencing God working through you in ways you have never imagined. I praise God many young and precious souls gave their life to Jesus," he said.
With 2023 is expected to be challenging in terms of accessing resources to mobilise work, Pr Gulea said, he is prepared to get on with God's work.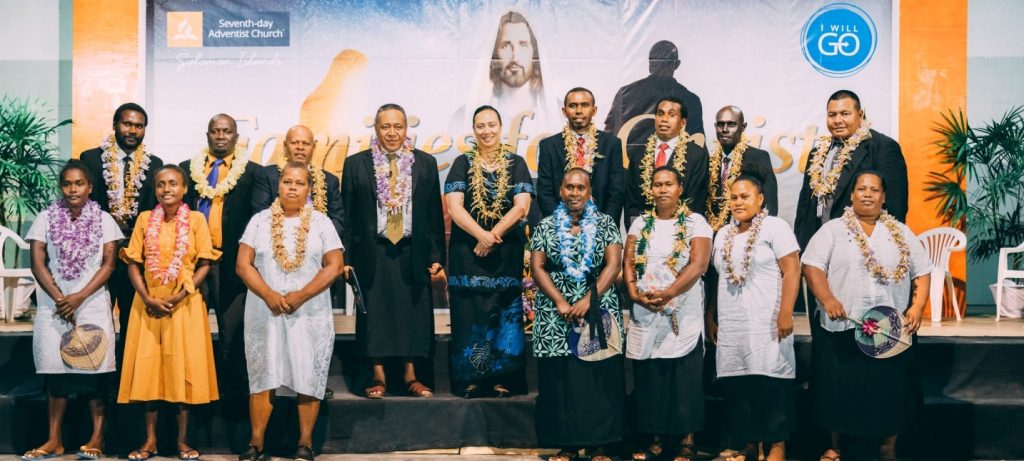 "For He promised me, "…Lo, I am with you always, even to the end of the age." Matt 28:20."
He also encourages other young people to take up theology. "When you hear God knocking on your heart, do not hesitate to respond to His call.
"We need more youths to be involved, not just in ministry, but fulltime gospel Ministry," he said.
He encourages young girls take up theology. "We need more female pastors to take up theology."
To those who want to take up theology in the future. Heres a piece of advise from Pr Gulea; "I have other plans but God's plan for my life is by far the best. If God is calling you, do not hesitate. After you graduate, always remember who you are; an instrument in God's Hand."
He said, given the soon return of Jesus its time the church and its members must work very hard to spread the gospel.
"Even the devil knew that time is running out. We have no time to waste, many are dying without Christ. Lets do our part. With God we must conquer the world for Jesus," he said.
Finally, he said, he had enjoyed his work as a missionary thus far and will continue to serve the Lord.
"It is a joy and blessing not only for me but also for my family. We are a missionary family and by God's grace we will continue to be a missionary family till Jesus comes," he concluded.

By MOFFAT MAMU