LIFE had never been the same since she relocated to Kolombangara, Western Province from her village of Kobito, Aola region in East Guadalcanal two years ago because her passion to farm and engage in the agricultural sector had reaped positive benefits.
After settling down, she had come to love the island lifestyle as she seriously ventures into farming which had been very rewarding for her.
Meet Nelly Koti, 52, who is a hardworking mother who continues to toil the soil, farm agricultural products and sells them at the Gizo main market and Poitete on Kolombangara.
Speaking to the paper in an interview recently, the mother of five kids said, she had been engaging in farming and selling of her market produce for many years while living at her village back in Aola.
Through the sales of her market produce, she is able to earn an income and support her family over the past years.
"So why did you end up in Kolombangara," I asked her.
She returned her response with a smile, "I'm married to a man from Kolombangara."
They got married in 1991 and had been living in Aola for many years.
However, two years ago as COVID-19 affected parts of the globe and the country, they decided to relocate to Kolombangara.
But after she relocated to Western Province and settled at Tombulu village, she become engaged in the agriculture sector by farming a number of root crops, fruit trees and vegetables.
And she had been finding it enjoyable and rewarding to engage in the sector.
"I earn good money out of it to support my family," she said.
After harvesting her produce, she would travel with her husband by boat to Gizo.
She recalled back in Aola, she would travel to Honiara to sell her market produce. And it was expensive for her.
She compared selling at Gizo and Honiara, where its much better in Gizo than Honiara.
In Honiara, its costly to travel for long distance and most times the sales are slow.
But in Western Province, the cost of travel is reasonable and sales are much faster due to high demand.
With the support of her husband and children, they were able to expand the gardens and farms.
This is to ensure they have enough root crops, fruit trees and vegetables all year around to harvest and sell.
And because of that, Ms Koti never fails to visit Gizo market and Poitete whenever she has harvested her produce to sell.
Poitete is a centre where some of the Kolombangara Forest Products Limited (KPFL) staff are located.
She farms and sells things like cabbage, chilli, pepper, tomatoes, melon and other vegetables.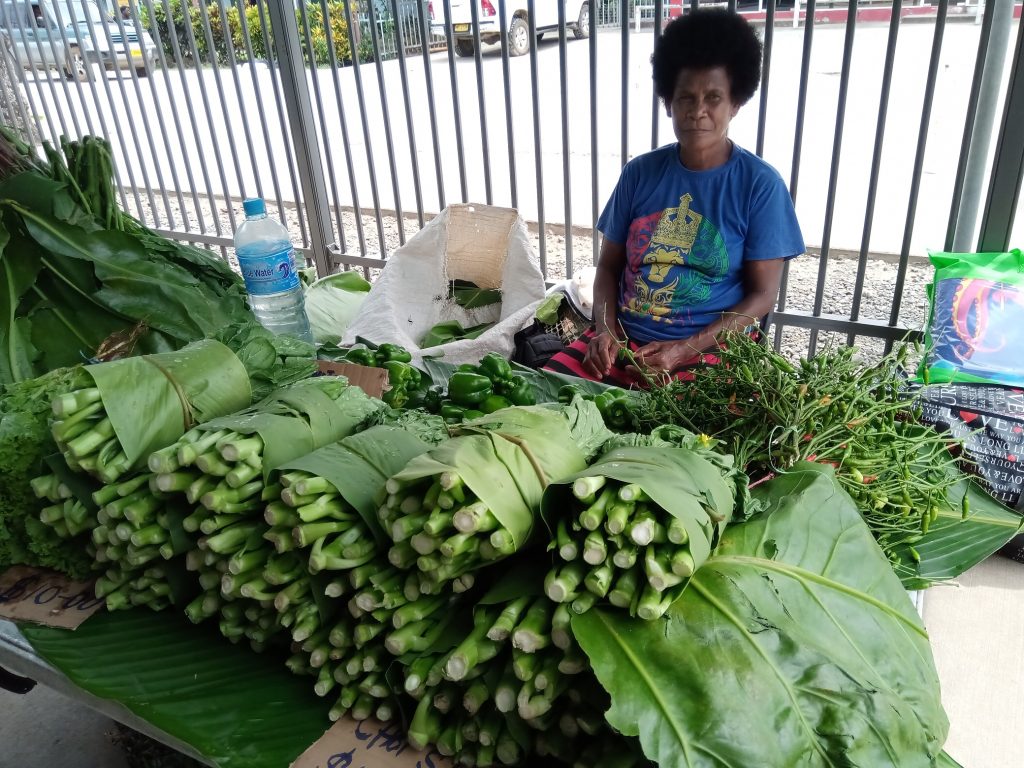 If you are in Gizo or Poitete, you won't miss this lady from Guadalcanal there.
Given the fertility of the soil in Kolombangara, the yield had been very good.
At Gizo she normally spends one or two days there depending on how fast she sells her produce.
Money she collected has helped to support her family buy things like food, clothing, transport cost, medical expenses, school fees and many more.
Some of her children are still at school. Thus, she ensures they get the much needed support to help with their education.
Like any other market vendors, the problem she often faces is lack of space at the Gizo market when most of the vendors from the nearby islands turned up to sell their produce.
She believes there is need to expand the market house in the future.
The other challenge is the continuous rising cost of fuel.
"The cost keeps rising and its affecting many rural people," she said.
She recalled that last year, the cost of fuel skyrocketed for several months when fuel ran out. As a result she could not travel to Gizo to sell her produce leaving most of the market produce to rot.
Mrs Koti expressed concern over the weekly increase of goods price at the shops in Gizo. It is affecting them as vendors.
Because of inflation, vendors like her have been forced to make changes to the way they are selling their produce inorder to keep up with the changes.
The other challenge is when there is bad weather, she cannot travel to Gizo. Not only that but extreme weather condition is also affecting her gardens and farm especially heavy rain which caused flooding and erosion.
But she never gives up because of her passion to work and farm.
"This is the only way I earn money to support my family. Not only that, I have seen money through sales of market produce," she said.
Mrs Koti said, as long as she is strong, she will continue to engage in the agriculture sector because it is the backbone of the country.
"People need food to eat and its important to cultivate the land and produce food and get maximum benefit out of it," she said.
She thanked her husband, who had been very supportive of her throughout the past years.
Most times he wold accompany her to Gizo or Poitete to sell.
She also acknowledged her children for their ongoing support.
The Aola lady is not sure when she will return to her place for a brief visit.
But she misses her extended family and relatives. "I'm hoping to visit them anytime soon," she said.

By MOFFAT MAMU