HE dreamt of serving his country as of this year as a qualified legal practitioner after completing his legal studies straight out of university in mid 2021.
He graduated with a Diploma In Legal Practice (GDLP) at UniFiji last December with the hope of securing a job.
However, the struggle became a reality after he exhausted his time applying for 13 vacancies after arriving back in the country.
He gave up and instead applied for a job as a cleaner.
He was recruited and now finds himself not as a legal practitioner but as a legally recruited 'cleaner' in Australia.
Meet twenty-nine (29) year old Michael Naitoro To'otalau whose story went viral via the social media in the country in the past week.
He came from a family of seven – 6 brothers and a sister. Hailed from a small village called Namonfata in the highlands of West kwara'ae, he is also part Are'are, Manawai village, Malaita province.
To'otalau did his primary school in Gwauno'a CHS in 2001 to 2002, and then went on to Manawai primary school to complete his grades 3 to 6 there.
He then continued to do his forms 1 to 5 at Rokera Provincial Secondary school in Malaita before securing a space at Selwyn College in West Guadalcanal to complete his form 6.
He managed to secure a space at Honiara Senior High School to complete his form 7.
Speaking to the paper said over the weekend, he said, it was struggle and long wait after completing his form 7 before he managed to secure a government scholarship.
"It took me two years before managing to have scholarship to do my Uni. In 2017, I was lucky to have SIG scholarship where I did my Law Degree program at Fiji National University," he said.
He completed his Bachelor of Laws certificate and did his placement at Solicitors Office in Solomon islands last year.
Last year he completed his Graduate Diploma In Legal Practice (GDLP) at UniFiji and it was a proud moment for him.
While at the University his dream was to join the legal fraternity and serve his country.
But he realized it was a tough task to do job hunting in a country like Solomons.
"When I was in university, I thought life after completing my law program would be an enjoyable one because of my qualification.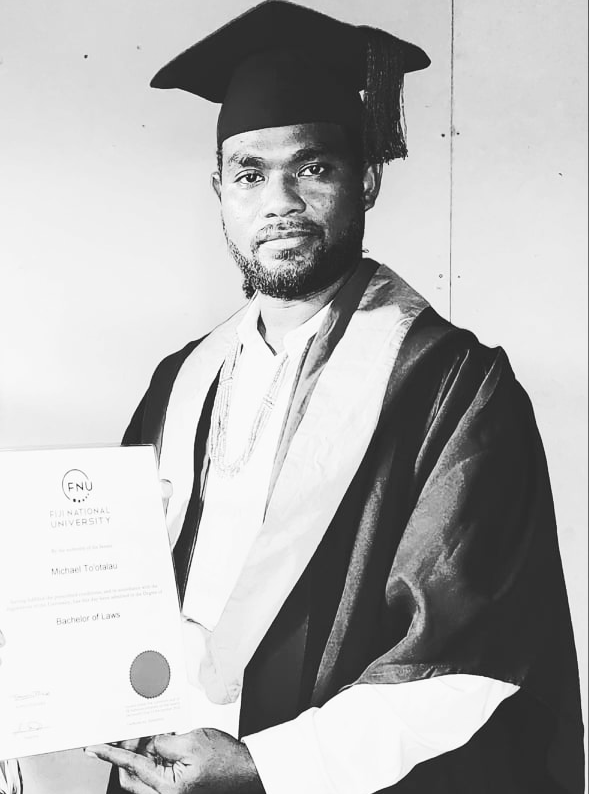 "After graduating from University, I return home with a hope to get a job, but no job opportunity available.
"There were many job vacancies but they had selected people for it already.
"I had applied for 13 job vacancies but there's no response that would make me happy.
"I had also asked orally to do cleaning at several places but there's no good response.
"I went from Point Cruz to Town Council to see if there's any vacancy at the Chinese stores but none.
"After all these struggle, I did not give up in which I intend to continue with my study," he said.
Because the search for job was a headache, he decided to submit his application under the Australian Labour Mobility Scheme after he saw the opportunity.
Therefore, at the end of 2021 he applied and managed to join Seasonal Worker Scheme.
In June this year he traveled over to Australia to take up his three years contract. And he did not regret the choice, he said.
"After completion of GDLP, I knew the struggle which I have gone through after completing University is still there waiting, so I made a quick decision on whether to seek a job that suit my qualification or not.
"Therefore, I made an application to join the seasonal worker and I was fortunate to have that opportunity," he said.
He is now working at SpringGrove Company in New South Wales (NSW), Australia. Part of his task is to do cleaning up at the meat factory after the normal working hours.
"Specifically, I clean during the night times, from Monday to Friday. My task is to clean the Bonning room, especially tables, floor, drainage, washroom, containers, chopping board, and other stuff like the machines that are being used to cut meats."
He normally starts in the evening and work right throughout the night till dawn.
"I usually start at 7pm and finish at 3:30 or 4am. My resting days are Saturdays and Sundays. It's two days off, and sometimes on public holidays," he said.
During his off days, he usually goes out to do things like shopping, do small exercises, and attend Sunday service.
"My team friends from Solomon enjoy going to gym, and we love staying fit," he said.
And he really enjoys working and he is happy to help his family with little he earns each week, he said.
He earns around $3700 in a week, which is a fortnight for some top government officers and private companies here in the country.
"In a week I earn AUD$1000 as gross and net AUD$700dollar (SBD$3700)."
And with the money he earned, he makes sure he saves some and also supports his family back in the country.
"With little I earn, I save it to achieve my goal and also send money to assist my family with school fees and other matters. Currently I'm the school payer in my family," he said.
SpringGrove Company, currently employs seven Solomon islanders working together.
And the boys are happy with their work.
He is still undecided whether to extend his contract or not because at the back of his mind, the strong feeling to serve the country as a legal practitioner in future constantly rings.
He also wants to build his career and experience before starting his own law firm or a business. And thats the reason which persuaded him to travel over to Australia to work and earn some money.
"That's what persuaded me to come to Australia to save some money and start a small business in future. But am praying about it," To'otalau said.
Five months into his contract and he already missed home. "I miss home sometimes, but I always prayer for my family for good health."
One of the things he misses as well is the locally prepared dishes and food.
"I miss our locally baked foods so much," he said.
He said, the cost of living there is not hard compared to the Solomon.
While in the land of Down Under he is also planning to find a job related to his qualification.
"Of course, I'm thinking about finding a job suited to my qualification here in Australia, and I want to continue studying if any opportunity is available. But I cannot go on my own if it is not the will of God.
"After my time in Australia, I want to find job related to my qualification back in Solomon Islands," he said.
To'otalau said, he is aware of some of his cousins whom have graduated from University are also working in Australia. "Many of them," he said.
He said, "now I'm a 'cleaner,' a job I think many young boys or girls won't like it, but money is what matters."
Thus, he reminded his friends who are currently in Uni, to start thinking about what they are going to do after completing their studies.
"The competition for the job vacancies in our country is very high. So my advice is save your money and create your own job," he said.
Yesterday morning, To'otalau and his friends attended a church service which is 28 minutes from the place where they live.

BY MOFFAT MAMU