Australian Defence Vessel Reliant is in Honiara after spending three weeks surveying possible sites for Solomon Islands' Eastern Border Outpost in Temotu Province.
Australian Army Captain Luke Staples said the survey data and information will be provided to the Solomon Islands Government so they can choose an appropriate site for their Eastern Border Outpost to be constructed.
"My role as Project Manager is to work with the Solomon Islands Government to ensure the outpost has what they need and then work with them to deliver the infrastructure to best enable their goals and meet their strategic objectives," said Captain Staples.
"This was my fifth trip to Temotu Province. It was nice to see familiar faces and meet with locals to explain the survey work and the progress our countries are making on this important project."
Once constructed the Eastern Border Outpost will be home to Royal Solomon Islands Police Force (RSIPF) personnel as well as Customs, Immigration, Biosecurity and National Disaster Management Office officials.
The Outpost will enhance Solomon Islands' border security and maritime surveillance capability while promoting economic development and stability in the region.
Joining the Australian Army and Royal Australian Navy team on Reliant were representatives from the RSIPF and Solomon Islands Maritime Authority Hydrographic Unit.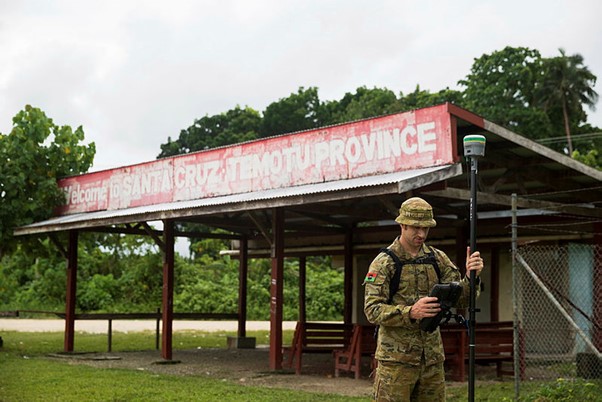 "It was great to be onboard, walking with Australia through the process and engaging with the local community," said RSIPF Police Constable John-Mark Saugaro.
The Australian Department of Defence is also working with Solomon Islands to deliver the Western Border Outpost in the Shortland Islands and upgrades to the RSIPF Explosive Ordnance Disposal facility at Hells Point.
– Australian High Commission