IT might be challenging and seemed awkward for a normal girl to fall in love, marry and live with a man with disability or impairment.
But just as the saying goes 'Love is blind' and can turn the odds around to an endless romance.
In Solomon Islands, rarely does an impaired person propose to a normal girl or vice-versa.
Last Thursday, Solomon Star was invited to a wedding that was described by many in Gizo as one of the best in the Western Provincial capital.
One thing that made the wedding so special was that the young groom is an impaired person. The bride on the other hand is a normal 20-year-old girl.
To add meaning and colour to the event, Kennedy Island outside Gizo was chosen as the venue for the wedding. The island was named after President John F Kennedy of the United States. He was rescued and taken to the island after his PT 109 boat was sunk by the Japanese during the Second World War.
An ordained pastor officiated at the wedding ceremony.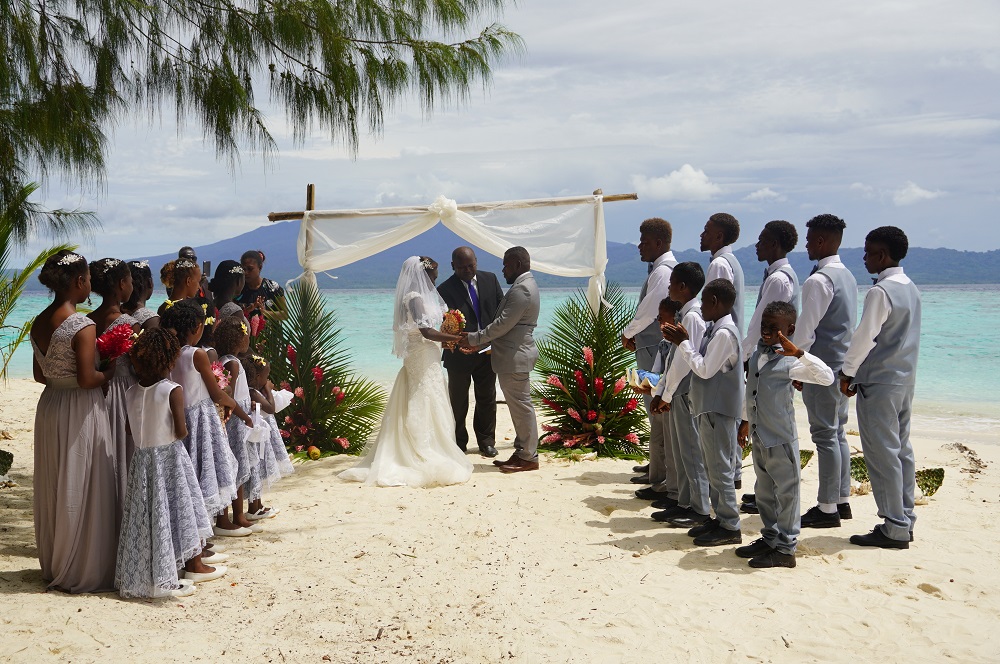 Invited guests lined the Gizo hotel roadside and the jetty across the road just to catch a glimpse of the newly-wed as they made their way from the hotel.
Dressed in beautiful wedding suits, more than nine boats ferried some of the invited guests as well as family members and relatives to Kennedy Island.
The bride and groom travelled in a separate fast mini  craft.
 ''Of course, it was one of the unforgettable moments of our lives, especially for my husband, who of course is impaired,'' the bride said.
Meet Stephenson Walemae and Diku Salau, the newly-wed who attracted the attention of people living in and around Gizo.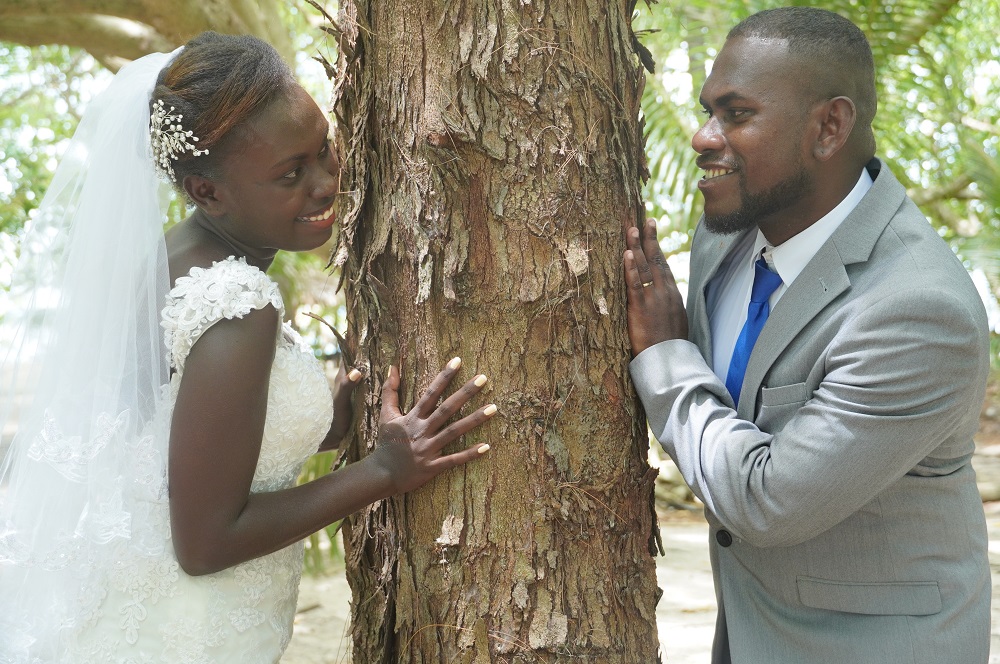 Walemae is 28 years old. He is of mixed Simbo-Langalanga parentage. He communicates using sign language as he is deaf.
Diku Salau, on the other hand is 20 years old and she is of mixed Vella-Rannoga-Kolombangara-Choiseul-Guadalcanal parentage.
Speaking to Solomon Star last week, Diku said she only met Stephenson last year in Gizo.
She said it was Stephenson that requested her out for a date and that romantic appointment blossomed into a love relationship. They communicated through mobile texts and facebook.
"Most of the time in our relationship, we communicated through phone by texting because Stephenson could not talk."
One thing that Stephenson masters is lip-reading and fully understands what a normal person is saying.
Diku was a Form 6 graduate of Jones Adventist College (JAC) at Dovele in North Vella when they first met.
It was love at first sight.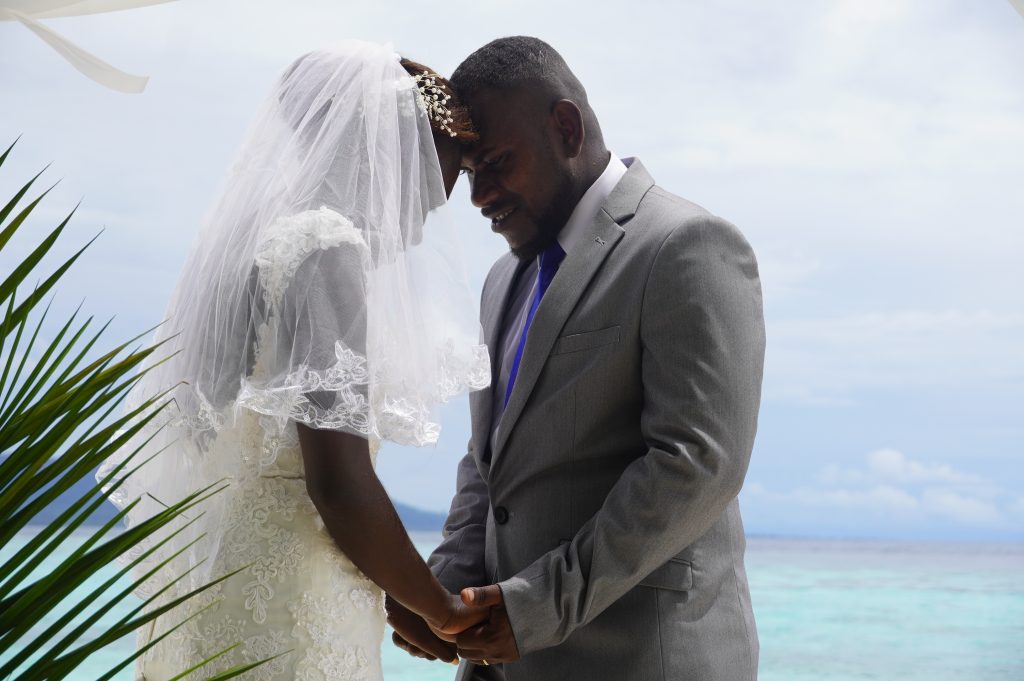 They were attracted to each other right from the start.
It was five months into Stephenson's relationship with Diku that his mother found out that his son has a girlfriend who is a normal girl.
It was not until after observing Diku's behaviour towards her son for some time that Stephenson's mother was convinced that she truly was in love with him. All Stephenson's mother's doubts and fear about Diku vanished.
Marriage arrangements were then made between Stephenson's and Diku's parents for the lovers.
At the wedding, 15 of Stephenson's friends who are also deaf were present as well as his interpreter. They all boarded a flight just to witness their best friend's wedding.
Stephenson communicating to the attendees of his wedding through sign language described that day as the best day of his life.
''My wish is to marry a normal girl who can speak. That's been my dream and I've accomplished it. I know my kind are often neglected in society but we are all human beings and are equal despite my impairment," he said.
Stephenson's mothers also spoke at the wedding, saying it was her son's dream to marry a normal girl.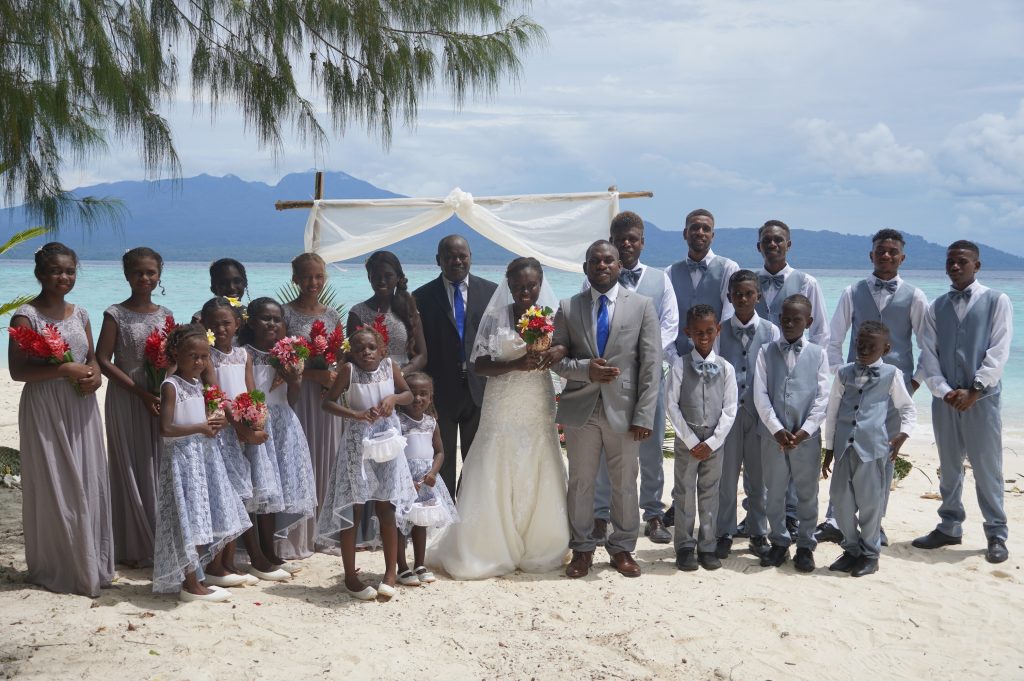 "But in our hearts, we doubted that he would ever be able to propose to a normal girl and marry her. We have come to realise that he has the courage to do anything, including the impossible. His wish has come true and we are so happy for him," she said.
Stephenson and Diku's best moments were written on the sand at Kennedy Island.
They vowed to love each other despite whatever challenges that they might face as husband and wife as they exchanged the wedding vows and rings.
Stephenson's life as a bachelor was full of joy.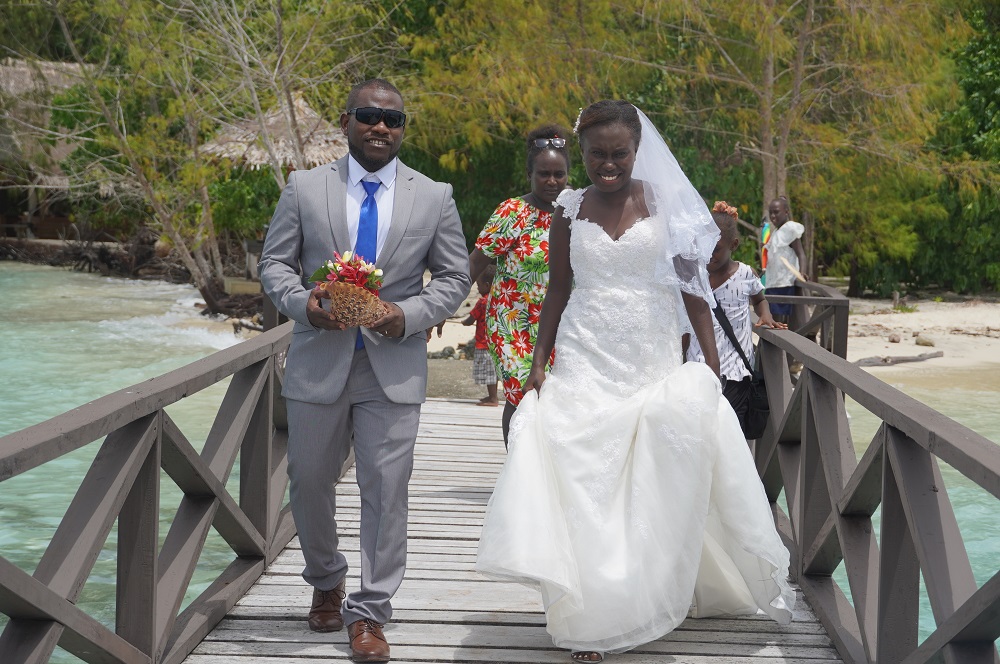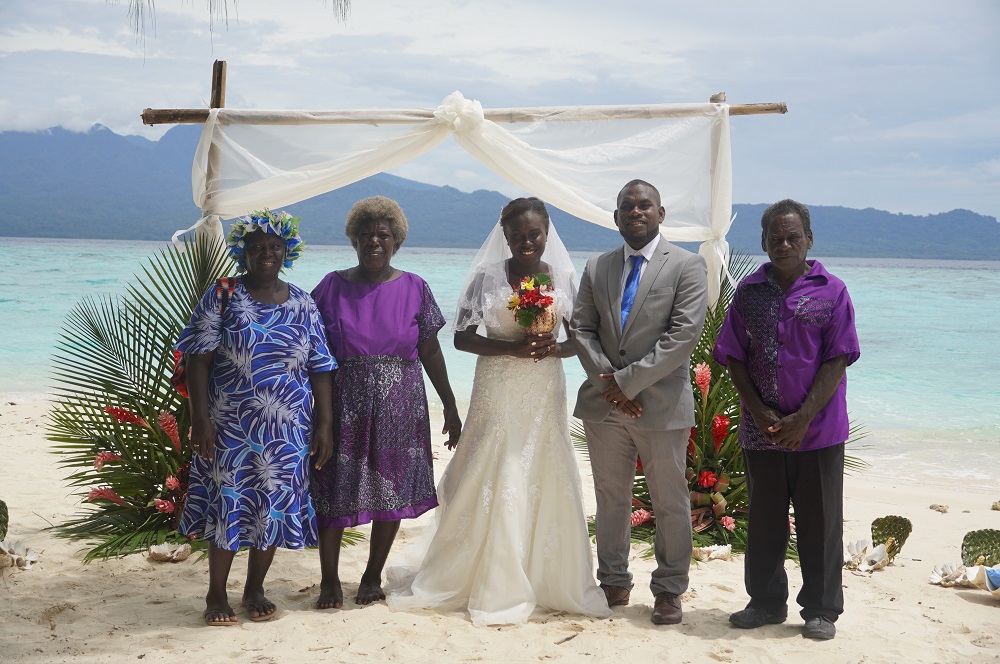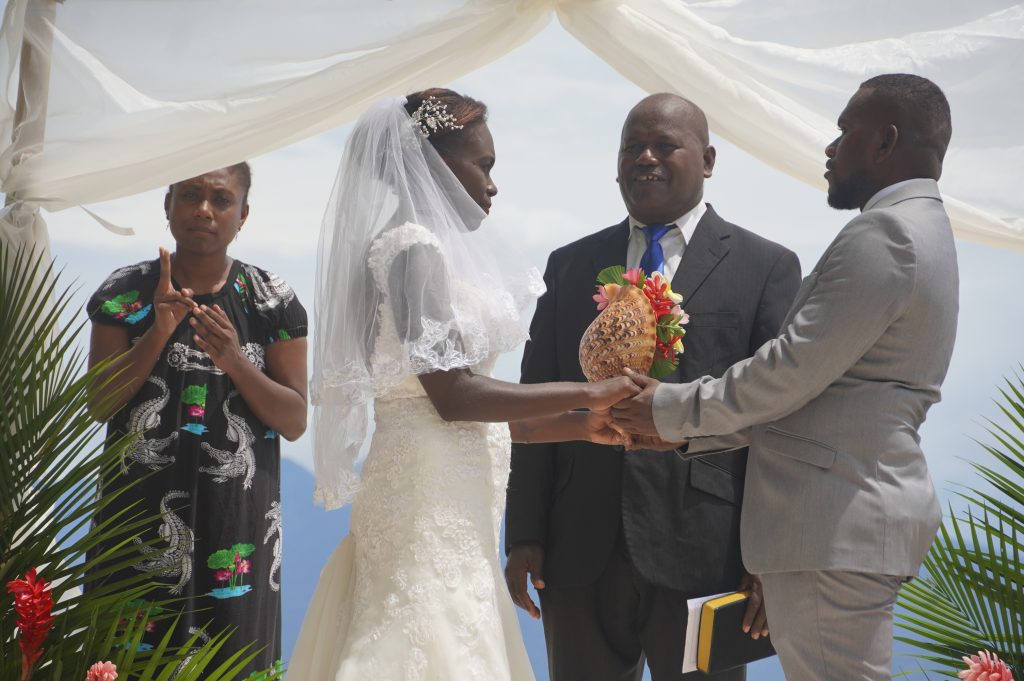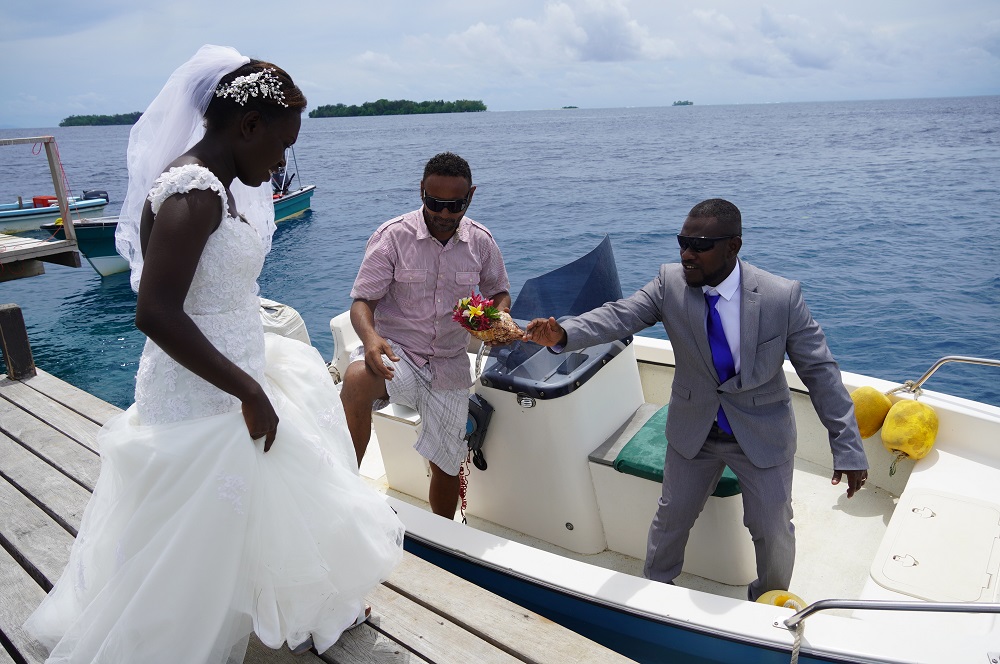 He was a student at the School for Special People with Disability and Impairment in Fiji. He even studied in the United States under a sporting scholarship programme for people with disabilities.
Diku expressed her deep love for Stephenson despite his impairment.
''We must treat each other and everyone equally no matter what ethnicity or racial background they come from or whether they are normal or impaired.
''God created us equally and we should respect and love each other equally,'' she said.
The wedding at the Kennedy Island concluded at the Outback Living with a party and entertainment.
By ULUTAH GINA
Solomon Star, Gizo