THE much-anticipated Women's Western Cup kicked off at the Gizo JFK playing field in Gizo, Western Province this week.
Up to 10 Football Zones under the Western Football Association (WFA) from Marovo to Shortlands participated in the tournament that was held.
The opening of the Women's Western Cup was marked with a parade through the Gizo Township escorted by Gizo Police.
Speaking during the launching of the first Women's Western Cup, Western Provincial Sports Minister, Hon. Ronnie Ghemu said it is good to commemorate and witness the first ever Western Province Women's Football Tournament.
Sports Minister Ghemu said football has always been a male dominated sports in our country for many decades, but today this ideology is now a thing of the past.
He said Western Provincial government encourage women and girls to participate in soccer, and this week's tournament is the true testimony of women and girls interest in soccer.
''Throughout this week we will be able to prove to the men that women and girls are also capable of playing the same sport we used to think that i was meant for men.
'' I urge you all women and girls to show your passion and skills in true spirit of sport women ship.
"Based on the theme "Recognising Women in Football" we see it fit to recognise that women can excel in football.
''I understand from information I gathered that some of our islands are not represented here this afternoon for this week's tournament, however they will be able to join in future tournaments.
"This is just the beginning of more women's soccer tournament to be organised by the WFA in future," he said.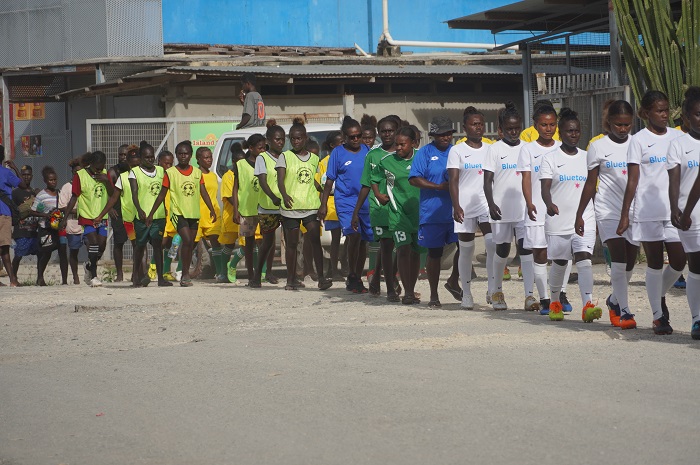 Ghemu encouraged all the women and girls to make use of this one week of soccer tournament and make the best out of it.
"Soccer is not only a sport as many of you think, it is also a career.
''The Government is very keen on the development of sports in our Province and will work hard together with Sport Associations to see tangible growth of sport in our urban centres and right down to our villages and wards, so let us work together,'' he added.
He then acknowledged the main sponsors of the tournament, the WFA and LOC for your leadership in preparing this tournament this week.
Meanwhile WFA President Loeilly Ngiara also took time to encourage young girls to actively engage in sports.

By ULUTAH GINA
Solomon Star, Honiara