OUR current younger generation is already worried because of what their future holds in terms of the threats now being posed by the ongoing sea level rise.
Youths make up a large portion of our people who live by the coast. And they are the ones most vulnerable and now are faced with an uncertain future.
This is because they only have two options, either to extend their homes over the ocean or relocate inland.
As a result, the climate crisis is already placing significant psychological burdens on them, from both direct experience and simply knowing the dangers it poses for their future.
In the country there are many youths who are also worried about the future for our island nations.
And one of them is 15 years old, Betty Taki from Choiseul and Western Provinces.
She had seen and experienced the brunt of this changing climate condition.
Currently she is a form two student at Kukudu Adventist College (KAC), on Kolombangara, Western Province.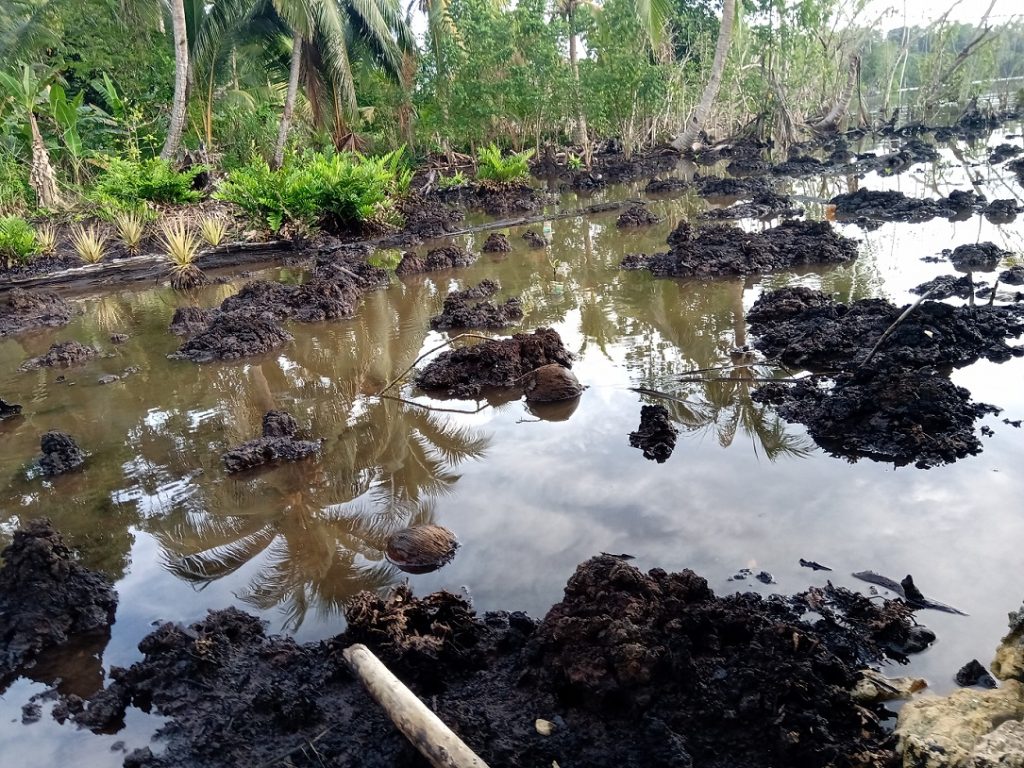 She had grown up in Honiara and did her education at a number of schools there.
Two years ago, she was accepted to do her high school at Kukudu, Kolombangara.
And during her time traveling around between the islands of Choiseul, Gizo and Ranoggah, she witnessed the impact of sea level rise brought about by climate change.
She acknowledged the threat from sea-level rise is real because of the evidences she had witnessed.
Like others youths she aso raised concern what the future holds for many of the generations to come if such reckless attitude of excessive gas emission are not controlled.
As someone spending time in the rural area in the past years, she said, "I have personally witnessed the changes brought about by the rising sea level.
"It is a crisis that will continue to impact many of our people, communities and infrastructures."
At Kukudu school seafront, the once beautiful sandy beaches are no more, severe bad weather had forced the tides and strong waves to clear off the coastal areas, she said.
Even some of the trees and vegetation located by the coast at Kukudu have also disappeared in the past years.
At Gizo she also saw high tides slowly posing a threat to infrastructures such as jetties and government owned properties.
Over the weekend, she managed to visit Buri and Patu in Ranoggah as part of her one week break.
During her time at Buri she witnessed firsthand how the tides continue to impact on some of the once fertile land.
She had witnessed some of the pineapple farms and banana plantation now submerged.
Even a poultry house once standing inside the banana plantation is now dismantled due threat from the rising tide.
Some of homes standing along the coast are also facing threat from the rising sea-level and may need to be relocated soon.
For young Betty, she is also worried about her future.
This is because her village in Sisikaena on Choiseul Chuchulu in Marovo are also facing similar threats.
"I have seen the evidence of sea level rise and I'm worried about the future of my younger brothers, sisters and relatives," she added.
Another student Nola Gotina from Ranoggah is also concerned with the threat from sea level rise.
She had been visiting Buri every now and then and had witnessed the changes it had on the coastal communities.
For Gotina who is also a student from Kukudu some of her relatives especially her grandparent's home are located by the coast. And she often visited them ever since she was a kid.
Fifteen years on and she had witnessed what the changing tide had done to many of the coastal regions and land around Buri.
She said, what used to be a playing ground for many of them, is now a swampy ground.
Another young lad Denton Galonaki, who lives in Gizo but continues to visit Buri is also concerned with the way the rising sea-level continue to impact on coastal area where her relatives are located.
He said, the future for many of his relatives is grim due to sea level rise.
For many coastal communities around Ranoggah, the only option is relocating inland should the tide continues to rise.
Despite the threats from sea-level young Lynton Tanakesa who is doing his primary studies and lives with a relative at Buri sees it as an opportunity to be resilience by planting of mangroves.
Since last year he and others have planted young mangrove soots along the coast to ensure these mangroves replaced some of the area that were once covered with gardens and fruit trees.
He said, this is to ensure there are mangroves to protect the coastline as well as to provide food and firewood.
"We have no choice but to do something to protect our coastlines and one way is through mangrove replanting," he said.
A visit by the paper to Buri over the weekend had seen some of the young mangroves already standing and growing.
Young Tanakesa who is from Choiseul and Vella believes, the future of many rural coastal communities is to find ways to protect the shorelines.
He said, they plan to plant more mangroves.
"We will continue to plant more mangroves here," he said pointing the new areas where the tide continues to reach.
Sea level rise had also affected coconut trees and fruit trees like mandarin. Guava, five corners, orange and nuts.
For young Lynton he believes in ten years time, most of our rural coastal regions will be covered with sea.
According to euronews.com/green more than two thirds of children between the ages of seven and twelve are worried about climate change, according to a new survey.
Anxiety about the state of the planet is on the rise – and young people are particularly vulnerable, it was highigted.
The survey by eco-grocery start up Modern Milkman found that 71 per cent of children born between 2010 and 2015 are increasingly concerned about changes in the environment.
Almost a fifth of children were most worried about rising temperatures.
"The results show that environmental challenges are having a prominent effect on the children of today, proving that it's never been more important to educate communities on the actions they can take to protect our planet," said Simon Mellin, CEO and Founder at Modern Milkman.
Although the Earth is currently only about 1.1°C above preindustrial levels, it is clearly already too hot.
The Global South (also referred to as low- and middle-income countries or the majority world) is currently bearing the brunt of climate change effects. Next to Solomon Islands is Australia which continues to be affected by fire and flooding.
And there is doubt we are fast approaching irreversible tipping points and, without moving speedily to net zero emissions and draw down the excess greenhouse gases already in the atmosphere, we face an existential threat to the global ecosystem and human civilization.
This means, the well-being and even survival of today's children are at risk.
And because of that our youths must take a leading role in advocating the threat from climate change.
Solomon Islands as a country continues to be affected in many different ways, despite being one of the lowest emitters of greenhouse gases.
Therefore, youths must continue to fight for the action that everyone need to see.
And its important for youths to share their experiences and how they are impacted from climate change so that others can learn to recognise the sad reality that many of our people face each day due to climate change, and especially sea level rise.

By MOFFAT MAMU