CHANGE MAKERS

Growing up in a tough environment exposed to domestic violence at a very young age, Everlyn Basi had to overcome mental health issues and create for herself a happy space.
The young mother of Western, Choiseul and Malaita heritage prioritises being healthy for her children.
As a high school dropout, Eve also found herself pregnant after Form 6. Determined to change her life and be around for her children, she prioritised her health.
Dropping out of high school after form six when she got pregnant, Eve, as known by friends and family had to find ways to stay healthy to be around for her children as a young Mum.
In 2012, Eve was introduced to zumba by a friend, an exercise that involves music and dancing.
"When I was a little girl, I loved dancing so much. So I was keen to try it out. So I went. That first day, I fell in love with zumba instantly," said Eve.
As founder and owner of Eve's Zumba Fitness, Eve has four instructors that support her.
"Zumba is basically about music and dance moves. The thing about zumba is that it boosts the mood, it helps to de-stress and it makes a person happy."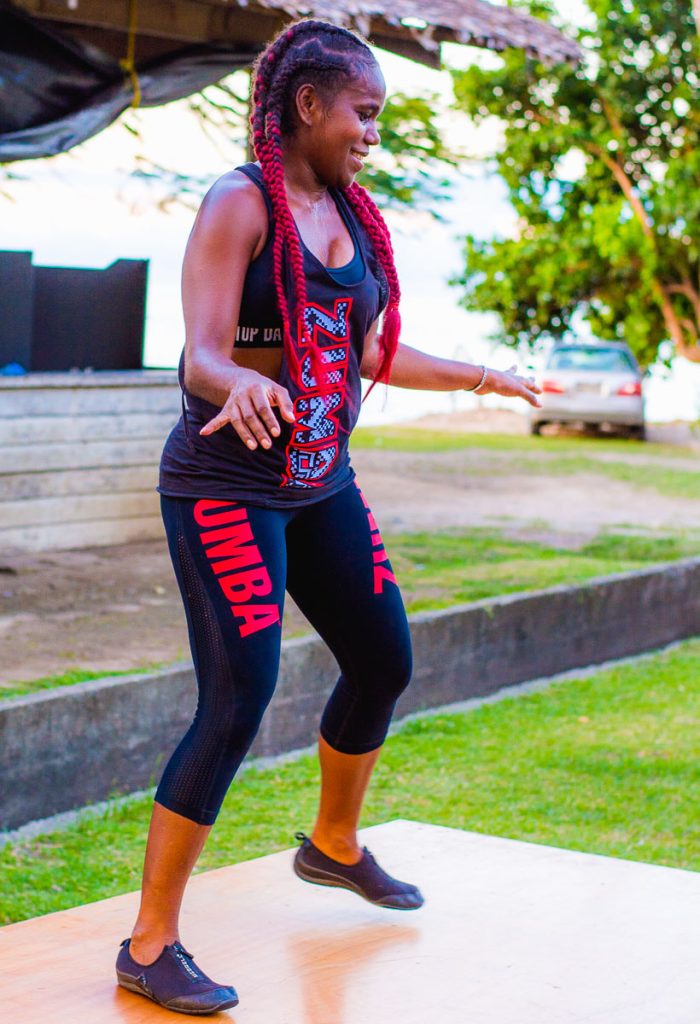 As a single Mum, Eve had to ensure her children enjoyed a safe space. For her, that meant getting a stable job to support them.
"That's how it all began. I need to be healthy for my kids. My inspiration is my Mum. My parents separated when I was little and Mum has always been there, supporting us all on her own. She's the strongest woman I have ever come across."
Eve adds, "I also had friends and family members encouraging me to take up zumba. They have also been my inspiration. But my number one is my Mum."
On challenges, the biggest at the moment "…are criticisms that we get from people."
"People don't see the importance of this group. All they see are negative things. They always criticise us. Mock us that we are always doing zumba but never lose weight."
Eve highlighted that critics only makes them stronger.
"We are not going to pay attention to any comments. We also have some husbands who don't allow their wives to come out."
She encouraged husbands and partners to know the good thing about zumba and support their wives participation.
Currently located at the Pacific Crown Hotel, the challenge for their zumba class is when there is a clash with the hotel's events.
This disrupts the class and pushes further the determination to have a permanent home for zumba.
"My future plan is to expand zumba. Expand it to the other provinces. Introduce it to other women out there in the provinces."
She adds that zumba needs somewhere that is permanent "…that we could call home."
Eve acknowledged that there is need for more awareness so that people see the benefit of zumba and allow their wives, sisters, mothers, daughters to be part of it.
"The goal is to grow the class so that we have a lot of happy women in the country and create happy homes", she adds. "We only have one life. So we have to look after ourselves, love ourselves and be fit and healthy to be able to look after our family."
She encouraged those who are not into any sport to consider zumba.
"I guarantee you – you will love zumba. It is a nice exercise for women and girls and young people to come join because it is on good community."

By Nina Tuhaika, YPCM Coordinator