TEARS rolled down his cheeks as his name was called to receive his certificate of completion as a form six arts student of Kukudu Adventist College (KAC).
This year 2022, is his final year as a student at the Adventist operated school that is situated on Kolombangara, Western Province.
Ryan Badenogo, is the only student from Temotu Province doing form six at Kukudu this year.
I was at Kukudu more than a week ago to witness the colourful graduation ceremony held on Monday 7th November.
For the first time due to COVID-19 like all other schools, Kukudu also resulted in a late start of the 2022 academic year which commenced mid-way through the year, the students were denied the 40 weeks of classes to only 27 weeks.
As a result, it had affected the students' and their studies this year.
Apart from the academic challenges, financial constraints had also hit hard on many students and their parents.
Because of these setbacks, Kukudu administration had decided to stage a one day graduation.
In the past such events are held over a three days period during the weekends from Friday to Sunday which often brought so much excitement to the students, staff, parents, guardians, friends, supporters and guests who usual witness the program.
So for the current form six students the school was able to host a one day event to honour them.
As of this week, young Ryan will be amongst many of the form threes, fives and sixes nation-wide who will sit for their external exams to determine their next journey in 2023.
Speaking to the paper in an interview after the ceremony, he said, he was glad to have completed his academic studies at Kukudu.
He spent the past three years at the school.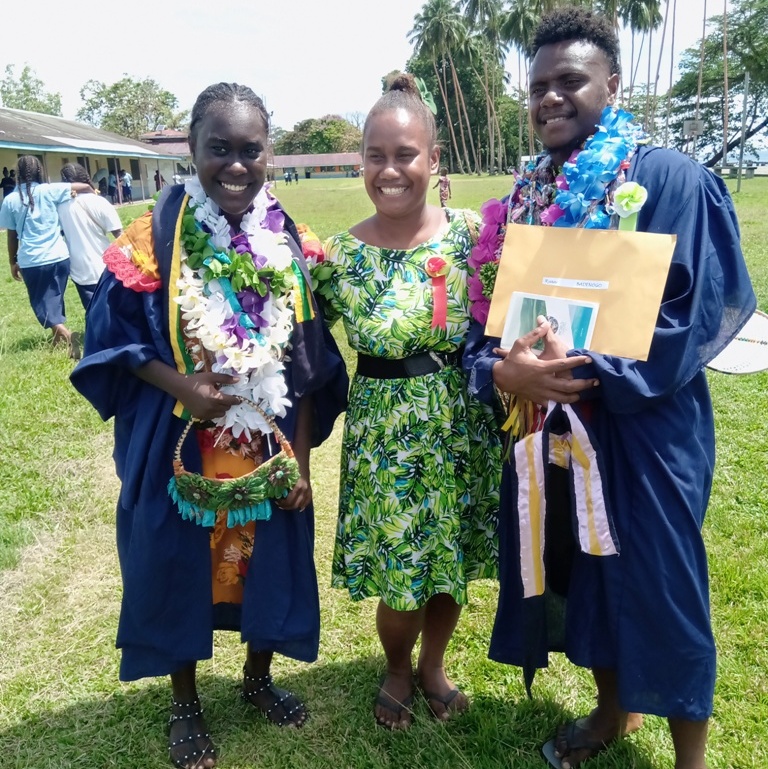 He did his forms one to three at Tenakoga Adventist College in Northeast Guadalcanal and was fortunate to be offered a slot at Kukudu to continue with his form four until this year.
Ryan said, he never regretted the opportunity to study at Kukudu because of the friendship he had established.
Not only that, but Kukudu has offered a lovely environment for students to concentrate in their studies.
Given his natural leadership skills and positive attitude he was also given the role as a head boy at the school.
And he did it with flying colours with overwhelming support from the students and staff.
He said, his aim now is to continue his education to become a teacher one day.
"My dream is now a step closer after graduating this year and completing my exams," he said.
He vows to do his best in the upcoming exams and continue with his studies next year inorder to attain higher mark, further his education and acquire a much better qualification.
Asked, why he wants to become a teacher, he said, "because of the positive influence of his teachers at the schools he had attended and how teachers are important in shaping the future human resources of this country."
He is the last in the family of four. Their only sister is a high school teacher.
One of his brothers is an electrician by profession.
Following the speeches and presentation of certificates, there was a handshake ceremony outside the chapel where all the graduating students lined up to be greeted, congratulated and garlanded by their family members, relatives, friends and school mates.
It was during that handshake procession that he had a surprise appearance from his father who arrived that morning to witness the ceremony.
It was a long hug along with tears of joy as he embraced his father with open arms.
He did not expect to see his father who happens to live in Temotu.
However, his father Francis was able to catch the first available transport and arrived in time for the ceremony.
Speaking to the paper, the father Francis said, it was a proud moment for him to see his last-born son completing the year on a high note.
He said, it was surprise arrival for Ryan.
"Ryan did not know that I'm coming. And so it was surprise appearance for him," he said.
The father said, he had made it promise that whenever there is a graduation, he will make sure to attend.
And that's the reason, he had traveled all the way from Temotu to witness the occasion.
Francis said, he was glad that his investment in education has paid off for his son who had reached the peak in his education.
He said, the journey into the circular education system will soon start for his son.
But he added that he was glad that his son was able to attain his education through the Adventist education system.
Francis from Neo village in Santa Cruz and is an Adventist and it was his wish to ensure his children went through the Adventist education system.
"I'm happy my son is able to complete his education here," he said.
Francis said, he wishes his son and all his classmates all the best in the exams.
Ryan was grateful and full of smiles during the ceremony to see his father and sister at the ceremony.
"I'm grateful that they are here to witness this occasion," he said with a smile.
As the final photo sessions were conducted by the students along with exchange of hugs and embrace, one thing Ryan aims to achieve is to pass his exams and go on to achieve his dream to become a qualified teacher in the future to serve his people and country.
The school principal Encie Dione had also acknowledged the form six students and their parents for their support to the school this year.
To Ryan and your classmates, all the best in our exams.

By MOFFAT MAMU