A FIVE-member delegation comprising of a United Nations Development Programme (UNDP) team, Australian and British Government official successfully conducted a two-day mission to Western Province last month.
The aim of the tour was to conduct site visit as part of a monitoring and evaluation mission.
The visit was conducted on Tuesday 8th November and Wednesday 9th November in Gizo and Vella La Vella.
The team included; Emma Davis Deputy High Commissioner, UK, Timothy Mitchell Second Secretary, Aid Coordination and Humanitarian, DFAT, Teiba Mamu GEF SGP National Coordinator, UNDP, Barbel Ziku RRM Analyst, UNDP and Lynelle Popot Gov4Res Solomon Islands Resilient Development Advisor, UNDP.
The visit was to see the progress of work under several projects that are recipients of the Gov4Res Small Grants Initiative (SGI) was launched in August 2021.
The Gov4Res Small Grants Initiative (SGI) was open to applications from Non-Governmental Organizations (NGOs), Civil Society Organizations (CSOs), and Community Based Organizations (CBOs) in Fiji, Kiribati, Republic of Marshall Islands, Solomon Islands, Tonga, Tuvalu, and Vanuatu.
Following a regional call for concepts a total of 181 concepts were received from 8 Pacific countries.
This had seen grant agreements being signed with 44 organisations for 49 separate projects.
As part of the project all successful grantees are required to submit a mid-term and end of project report and project site visits will be conducted by the Gov4Res SGI team.
In Solomon Islands, there are eleven (11) projects implemented by six (6) organisations funded by SGI.
The total UNDP fund granted for all projects in Solomon Islands is USD298,400.
Four (4) projects are in the agriculture and food security sector, six (6) in the Community Water Resource Management sector and 1 in Small-scale Infrastructure.
Therefore, the purpose of last week's mission was to provide project donors the opportunity to visit project implementation sites at the community level and better understand Gov4Res Risk Informed Development (RID) approach through SGI and community development projects.
In Western Province the team visited two recipients; the Sirubai Voko Tribe Association (SVTA) in Vella and Gizo Women in Business Development Incorporation (GWIBDI).
Day one of the tour saw the team visiting the Gizo Women in Business project at its base in West Gizo.
This project helps to enhancing food production through agroforestry which targets women on Kolombangara, Gizo and Simbo islands, in the Western.
It further supports women with tools to work on their organic farm to ensure they have enough healthy food.
Since the provision of support under Gov4Res GWIBDI was able to move into value adding and processing of local products such as soaps, peanut butter, and virgin coconut oils which are gaining popularity among the local populace.
They also visited an outlet where some of the value-added products are being sold in Gizo town.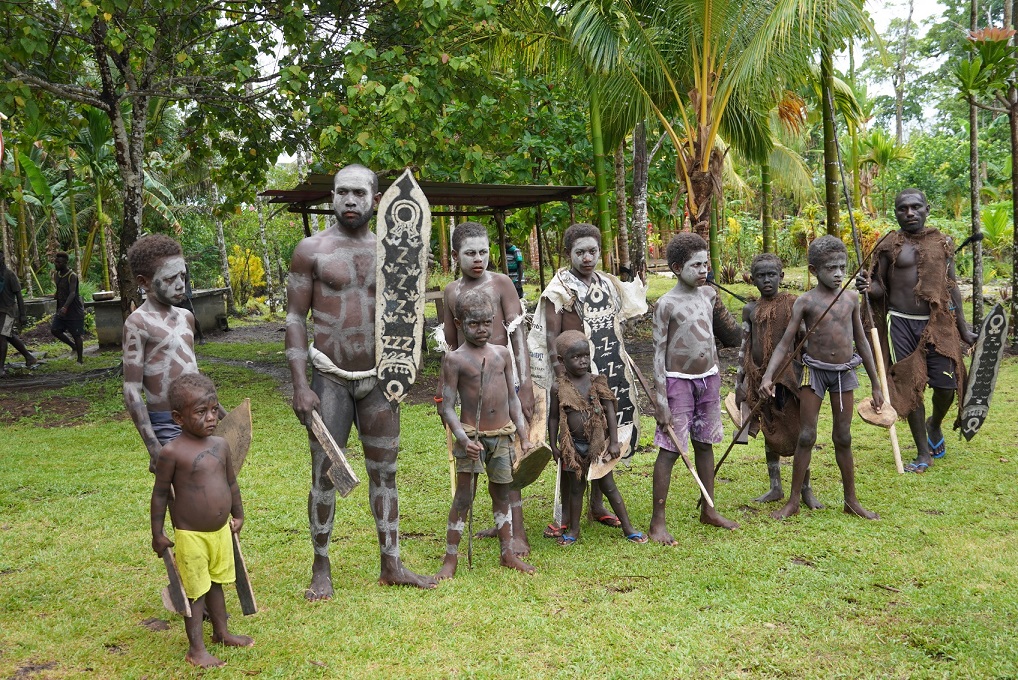 Day two of the tour featured a boat trip across to Pusiju community in South Vella.
At the community the Sirubae Voko Tribal Association is a recipient under the Gov4Res Project.
And this comes through the form a community hall under a small scale Infrastructure project. .
The project is making steady progress and the entire community had combined all their efforts to complete the project by next month.
The team was pleased with the progress being done so far in the two projects.
The Gov4Res Project is working together with Pacific Island governments to ensure that countries adapt their decision making and governance systems towards more risk-informed development.
The Project, implemented by the UNDP Pacific Office in Fiji is partnering with a range of partners including the Australian Government's Department of Foreign Affairs and Trade (DFAT), the Korea International Cooperation Agency (KOICA), the New Zealand's Ministry of Foreign Affairs and Trade (MFAT), the Swedish International Development Agency (SIDA) and the United Kingdom (UK) Foreign, Commonwealth and Development Office.

By MOFFAT MAMU
Solomon Star, Gizo